Fine Arts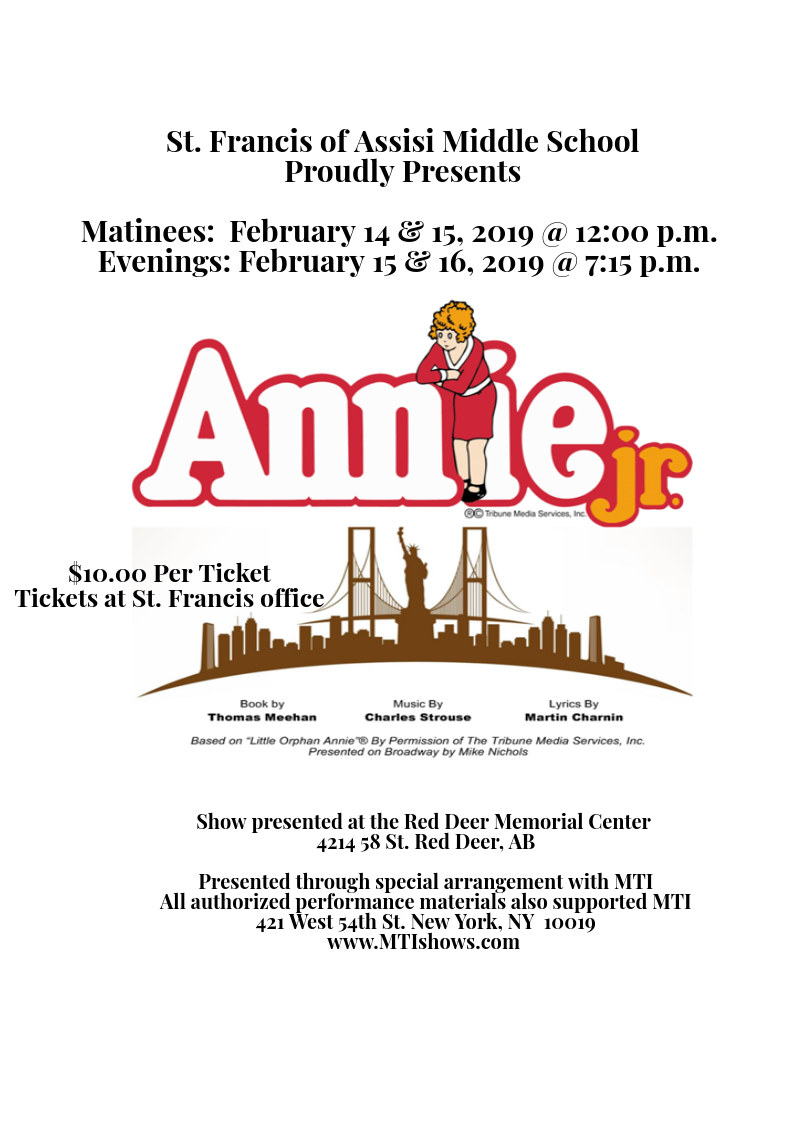 Annie Jr. the musical will be performed February 15 & 16, 2019 at the Red Deer Memorial Centre.  Tickets are on sale at St. Francis of Assisi Middle School office starting December 3, 2018, until the show and can also be purchased at the box office.  Tickets are $10.00/each.  
Synopsis 
The play takes place in New York City where we meet our cast of lovable orphans.  Annie lives in an orphanage run by the ill-tempered Miss Hannigan.  Like the rest of the children, Annie doesn't like the orphanage and especially Miss Hannigan.
When Annie is chosen to spend Christmas holidays with the wealthy industrialist Oliver Warbucks, Miss Hannigan is infuriated that Annie will be spending the holidays in the lap of luxury.  Mr. Warbucks is charmed by Annie's spunk and good spirits and is eager to adopt her, but Annie is convinced that one day her real parents will come back to claim her.  Mr. Warbucks loves her enough to offer a fifty thousand dollar reward in the search of her parents. 
That is when Miss Hannigan's con-artist brother Rooster and his girlfriend, Lily concoct a scheme to pose as Annie's long-lost parents.  
Our production is a fun time for all young and old.  For more information, please contact Mr. Ford 403-314-1449 ext 381162.  
Band Program
A number of students participate in the our band program. Aside from students taking the band option, the opportunity for a jazz band, an honour band, soloists, duettists, and small ensembles are also present. Students in band participate in camps and retreats during the year, the Kiwanis Festival in April, and recruiting performances at our feeder schools. Additionally, students have the opportunity to perform in our annual Christmas and year-end concerts. Students have the opportunity to participate in an excellent Performing Arts program.