Developing a Sleep Routine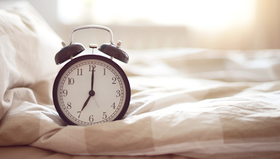 Getting enough sleep is critical for a child to be successful in school. Children who do not get enough sleep have difficulty concentrating and learning as well as they can.
Set a consistent bedtime for your child and stick with it every night. Having a bedtime routine that is consistent will help your child settle down and fall asleep. Components of a calming pre-bedtime routine may involve a bath/shower, reading with them, and tucking them in and saying good-night to them.
Have your child turn off electronic devices well before bedtime.
Try to have the home as quiet and calm as possible when younger children are trying to fall asleep.
Insufficient sleep is associated with lower academic achievement in middle school, high school and college, as well as higher rates of absenteeism and tardiness. The optimal amount of sleep for most younger children is 10-12 hours per night and for adolescents (13-18 year of age) is in the range of 8-10 hours per night .
https://www.healthychildren.org/English/healthy-living/sleep/Pages/Healthy-Sleep-Habits-How-Many-Hours-Does-Your-Child-Need.aspx